QUALITY CONTROL
Consistency through control
Whenever we're asked about the secret behind our Destilla products, we don't only mention "raw materials quality," "expertise" and "experience" ‒ we include our extensive quality assurance measures, too. Ongoing, consistent control across all processes, as well as compliance with our guidelines, enable us to guarantee the consistent quality of our products.
The result: Outstanding quality management. So that the quality standard of our raw materials processing into natural flavours and essences meets our customers' high expectations.
Here´s how guarantee we outstanding quality in every drop: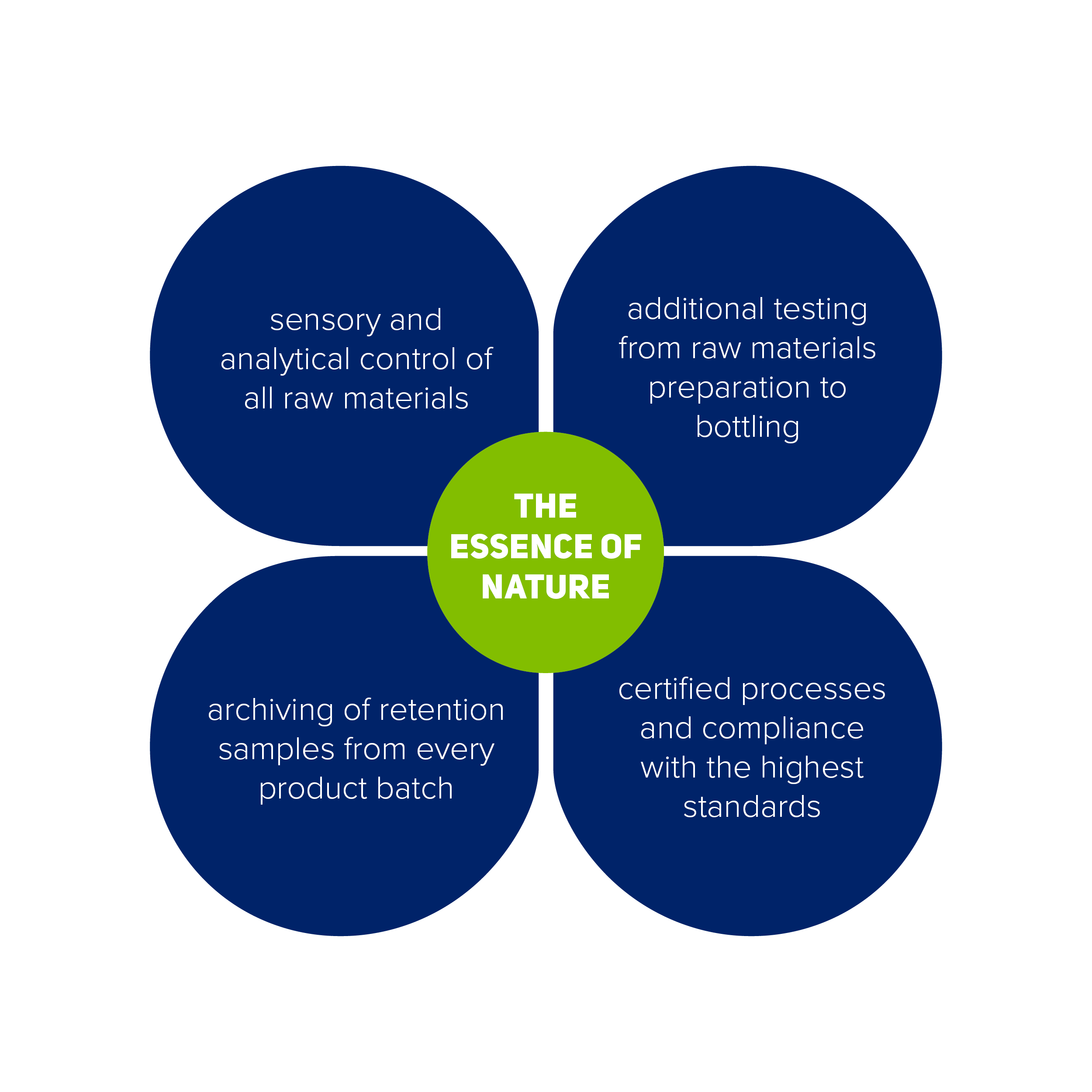 THE MORE CAREFUL AND PRECISE EACH PRODUCTION STEP, THE MORE SATISFIED THE CUSTOMER.
Reinhold Weiß, Analytics
Pures quality – guaranteed
At Destilla, sustainability is standard practice – just like adherence to strict international FSSC standards. Our FSSC 22000 version 5.1 compliance certification provides official proof for the first-class quality of our flavours and extracts. The certification may be new, but the quality has always been there.
Even so, Destilla isn't resting on its laurels because we strive to manufacture all our natural flavours at a consistent level of quality along the entire value-creation chain. From an analytical standpoint ‒ and a sensory one. Today and in the future.
These standards make Destilla products special
Organic certification by Germany's ABCERT governmentally accredited controlling body, code no. DE-ÖKO-006
ICG certification: "Energy-conscious company"
Corporate Social Responsibility gold status, CSR rating 2022
Upon request, we'll be happy to provide you with all our certificates in digital form.
Your direct connection to great taste
We look forward to hearing from you!
Destilla GmbH
Erninger Straße 2
86720 Nördlingen
Germany
"*" indicates required fields